Ann Hirsch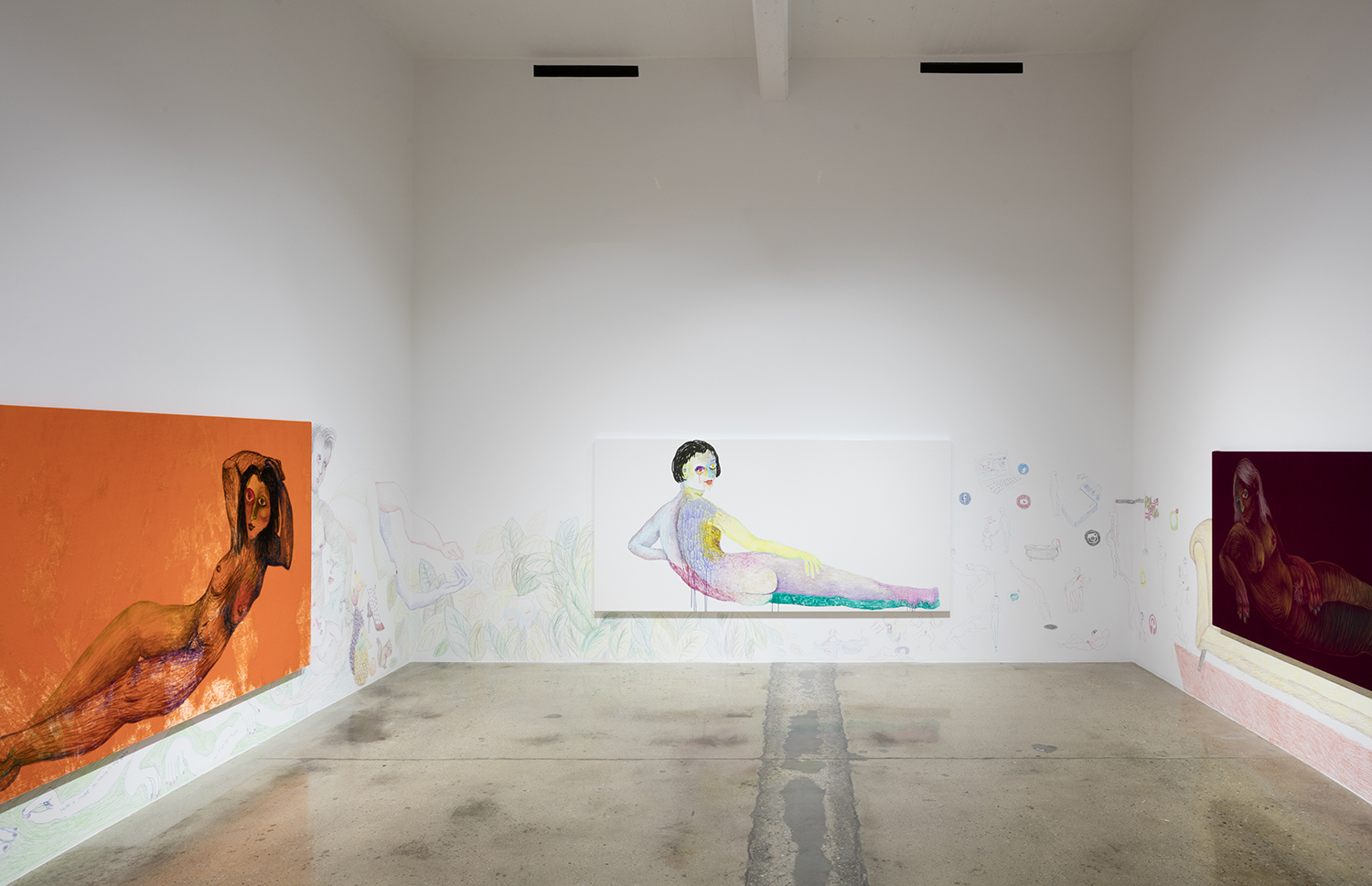 Private Residence, installation view, 2017 (Image courtesy of Steve Turner)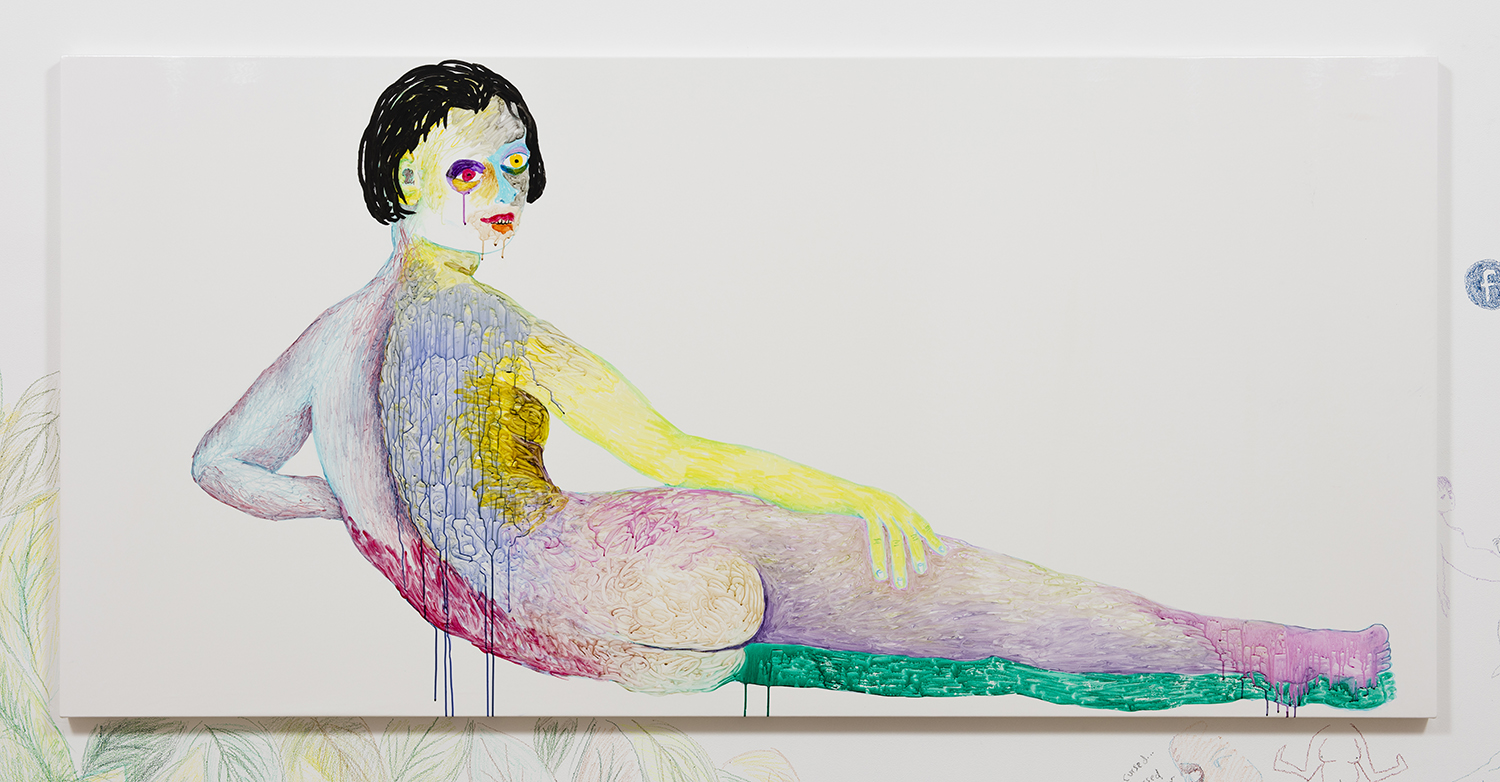 Jean, Fabric marker on velvet, 49 x 102 inches, 2017 (Image courtesy of Steve Turner)
Jean (detail), Fabric marker on velvet, 49 x 102 inches, 2017 (Image courtesy of Steve Turner)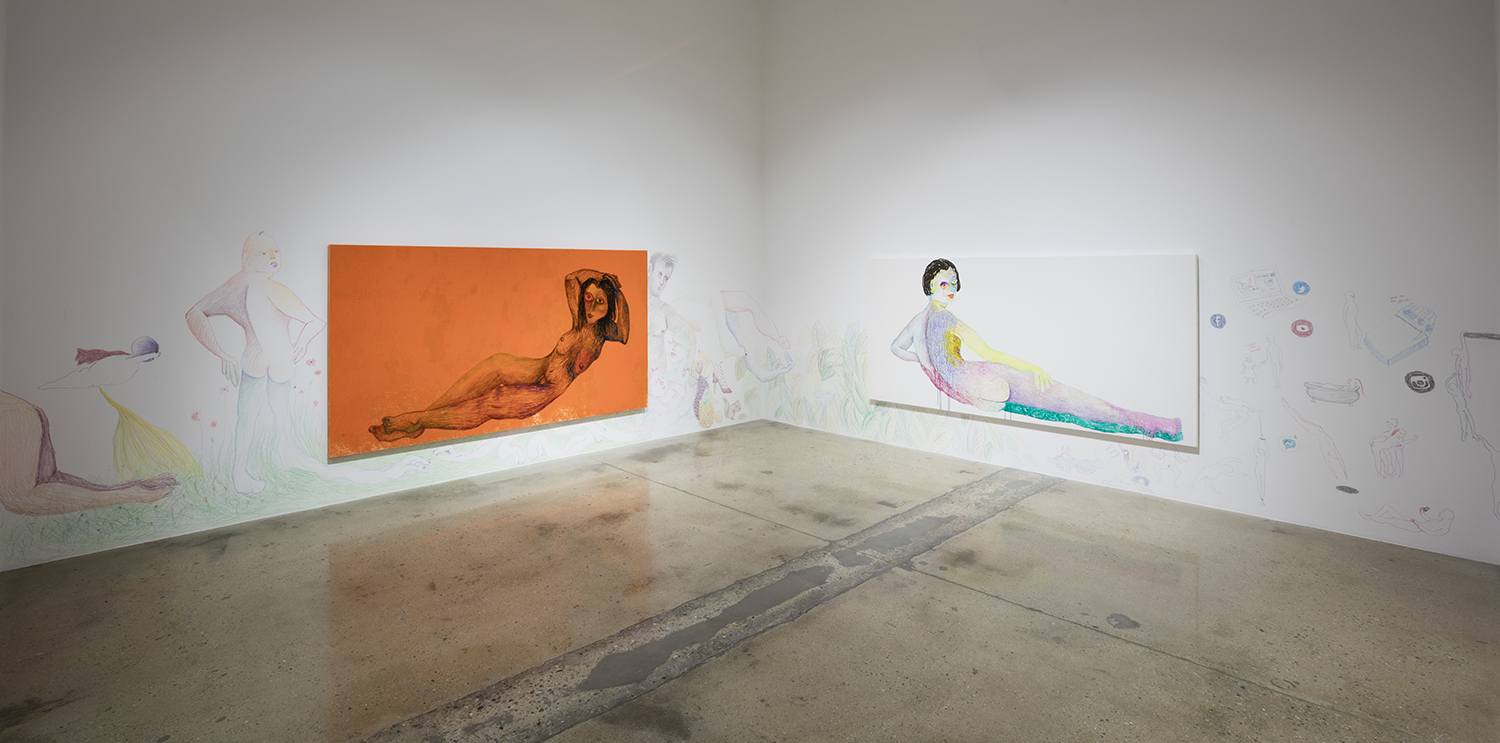 Private Residence, installation view, 2017 (Image courtesy of Steve Turner)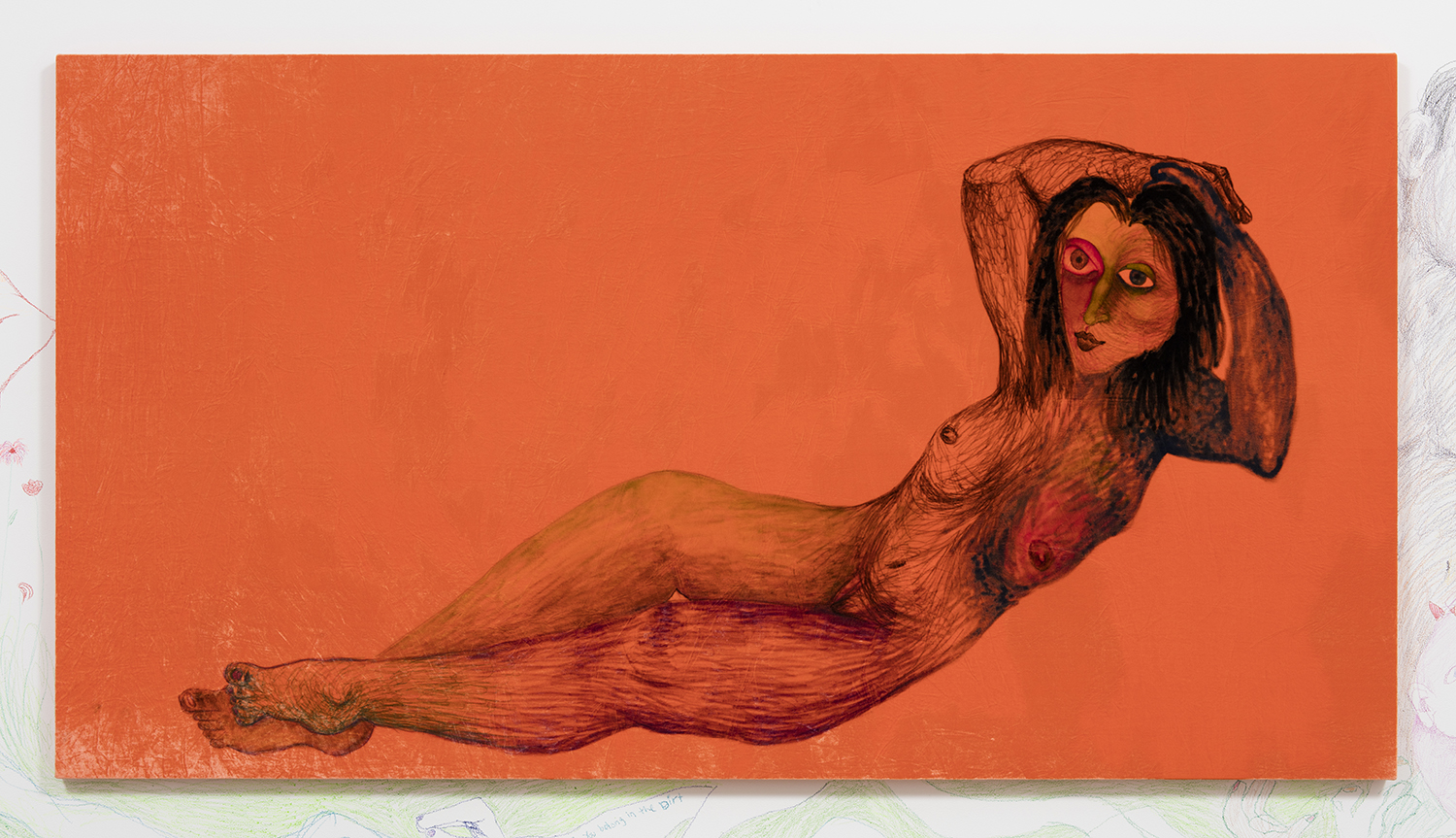 Francis, Fabric marker on velvet, 54 x 100 inches, 2017 (Image courtesy of Steve Turner)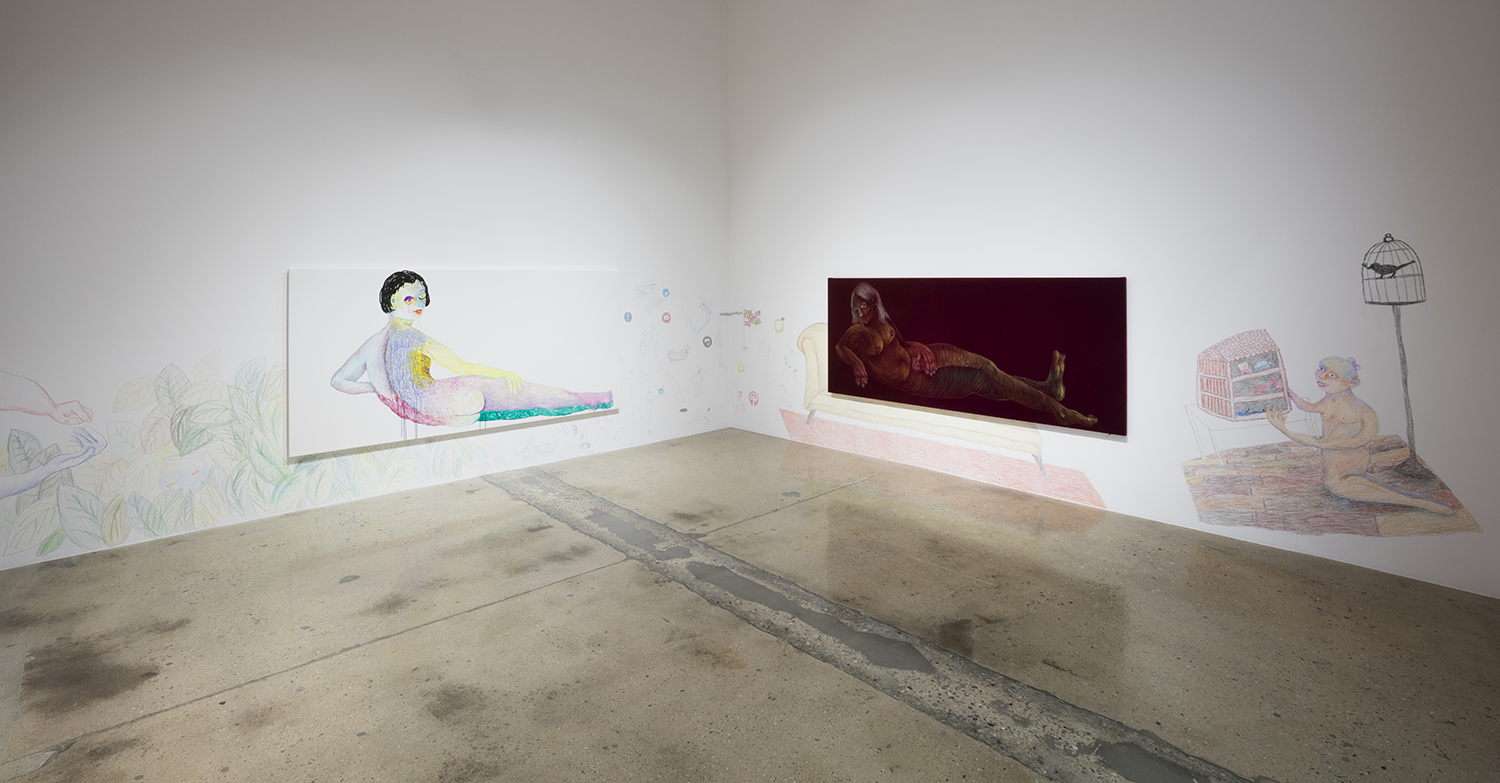 Private Residence, installation view, 2017 (Image courtesy of Steve Turner)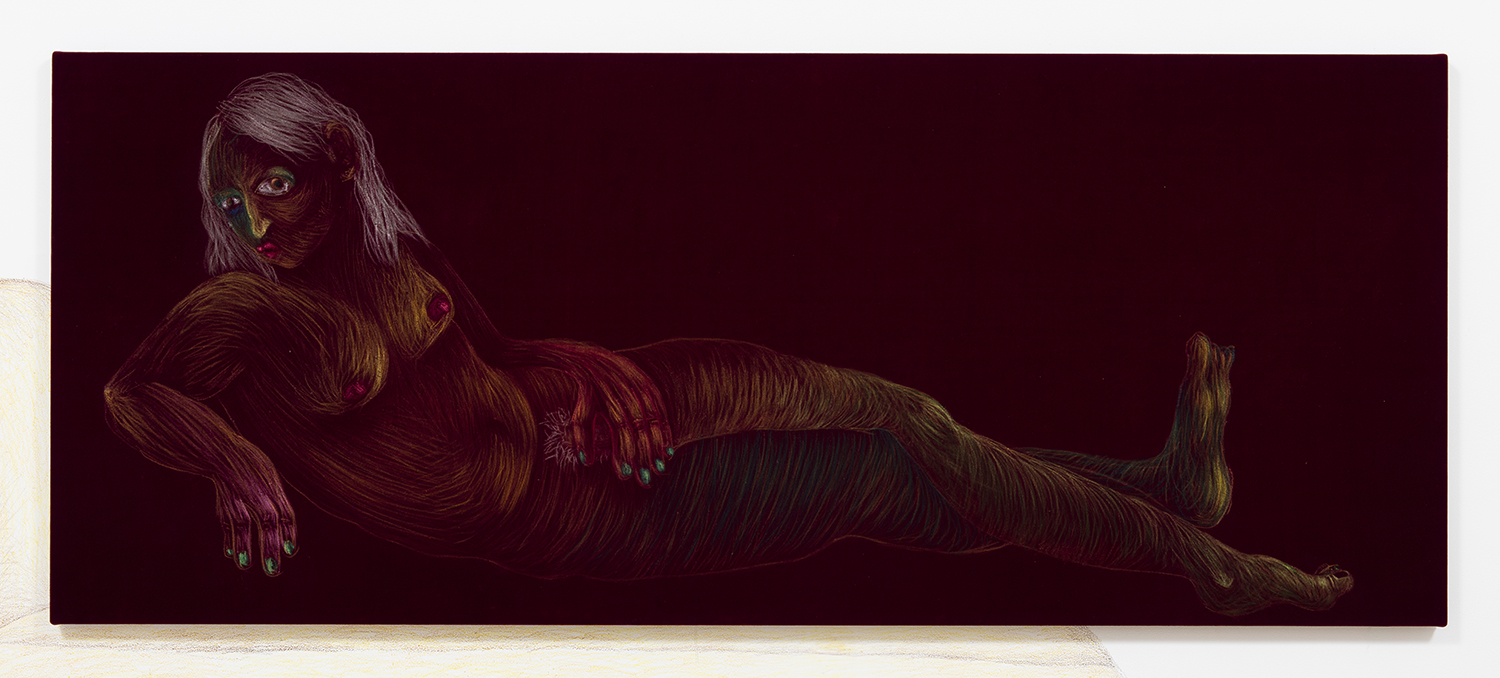 Tish, Fabric marker on velvet, 40 x 98 inches, 2017 (Image courtesy of Steve Turner)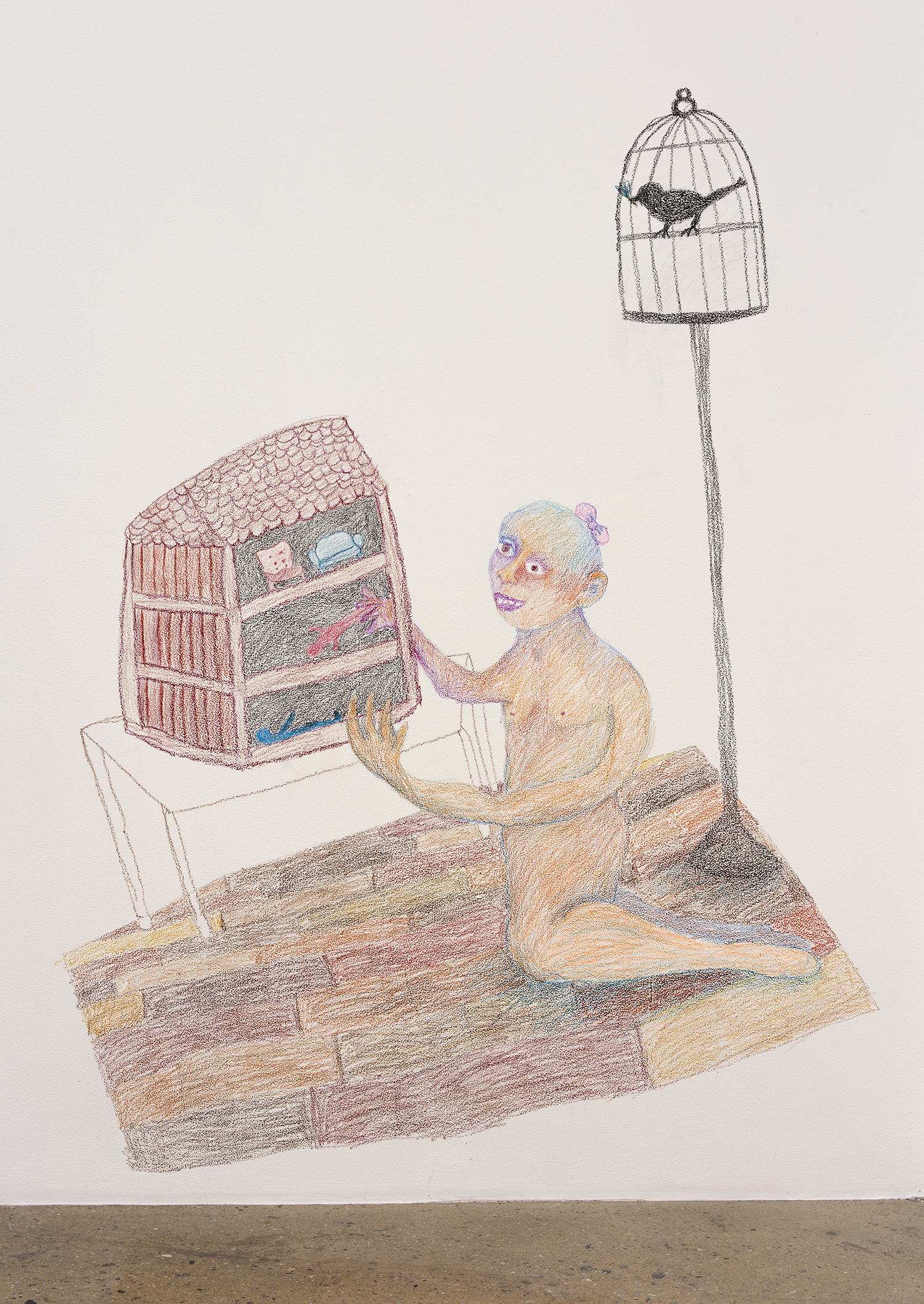 Private Residence, installation view, 2017 (Image courtesy of Steve Turner)
~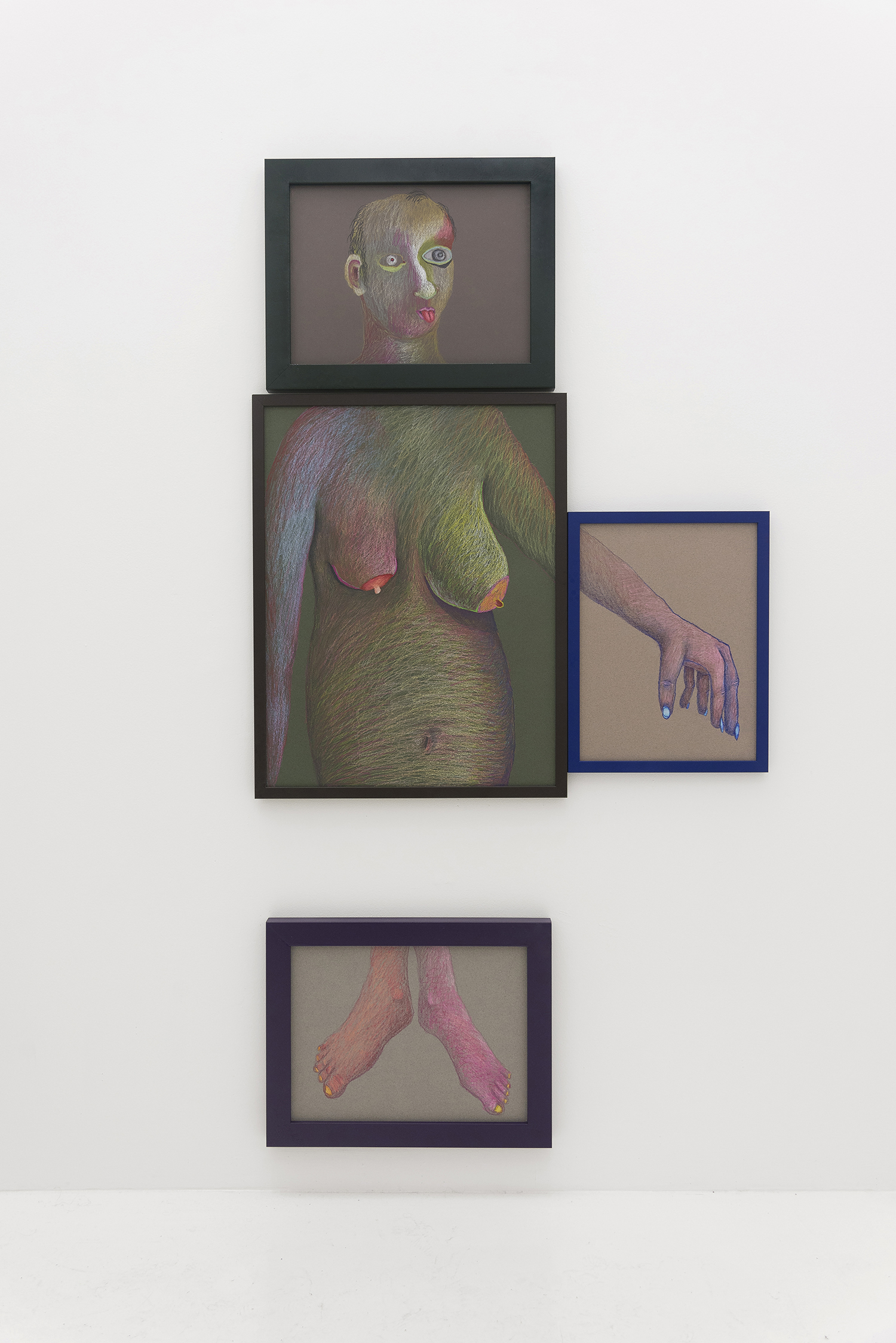 Q, Graphite and colored pencil on paper with artist's frames, 2016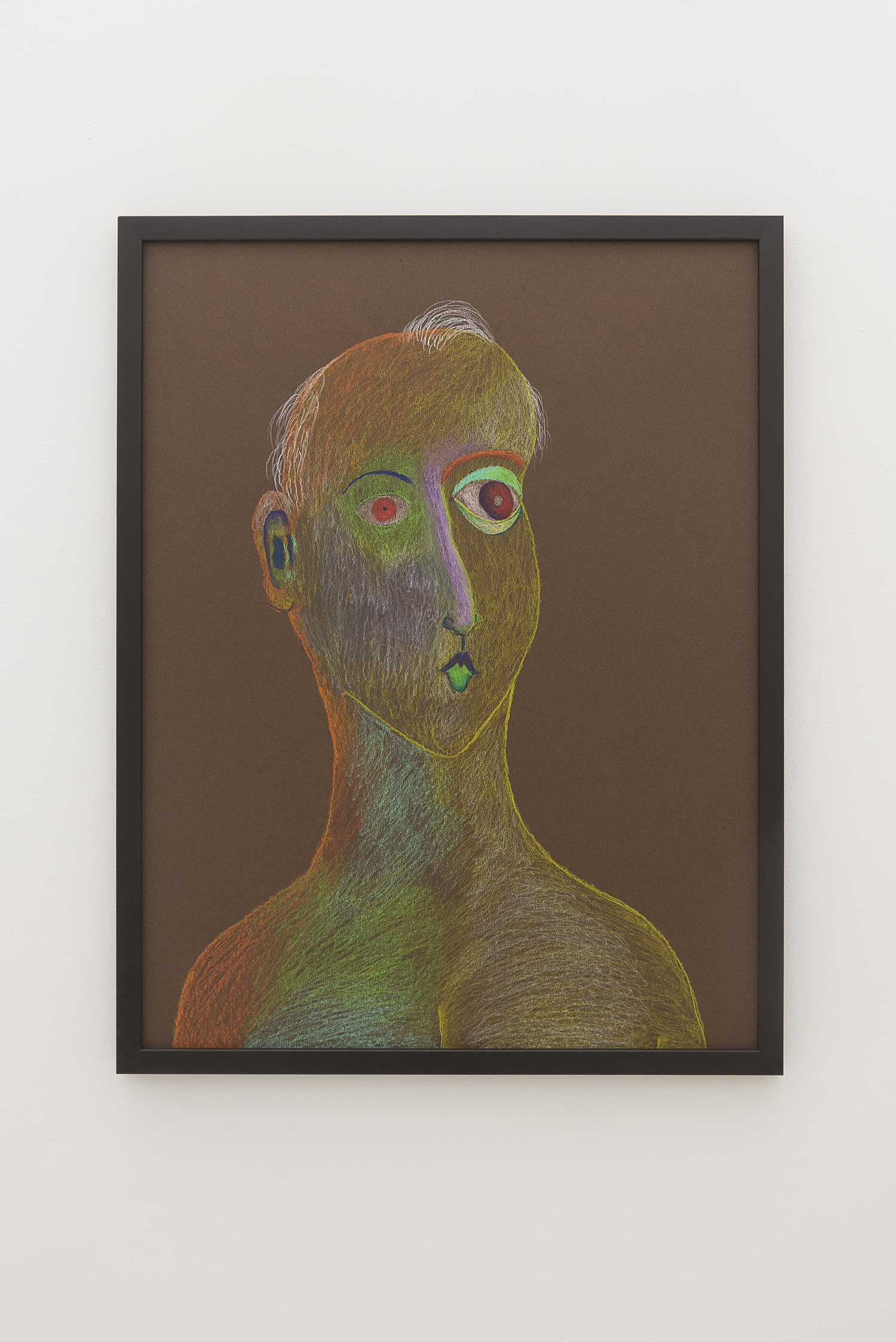 La Forge, Graphite and colored pencil on paper, 20 x 29 inches, 2016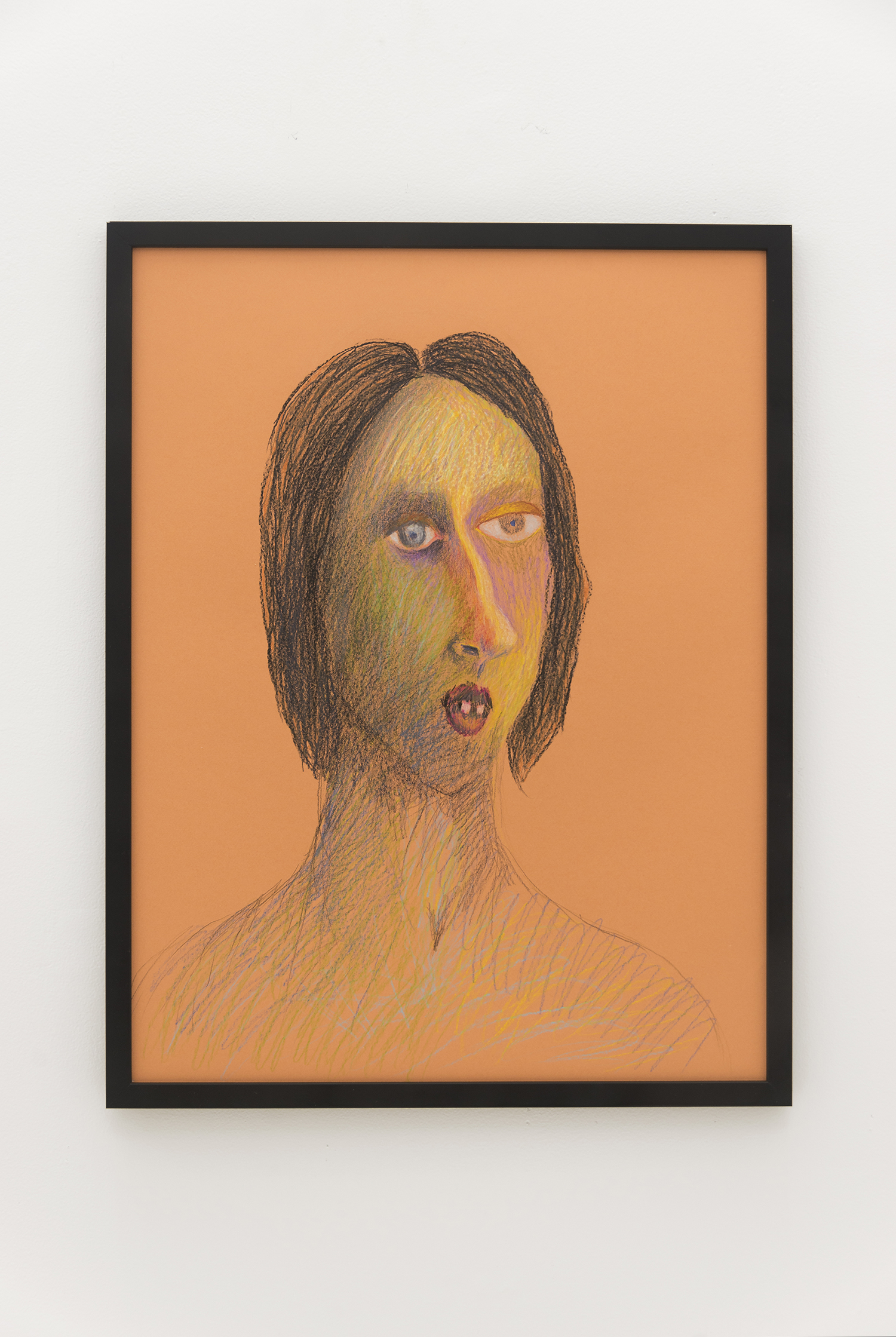 Troi, Graphite and colored pencil on paper, 20 x 29 inches, 2016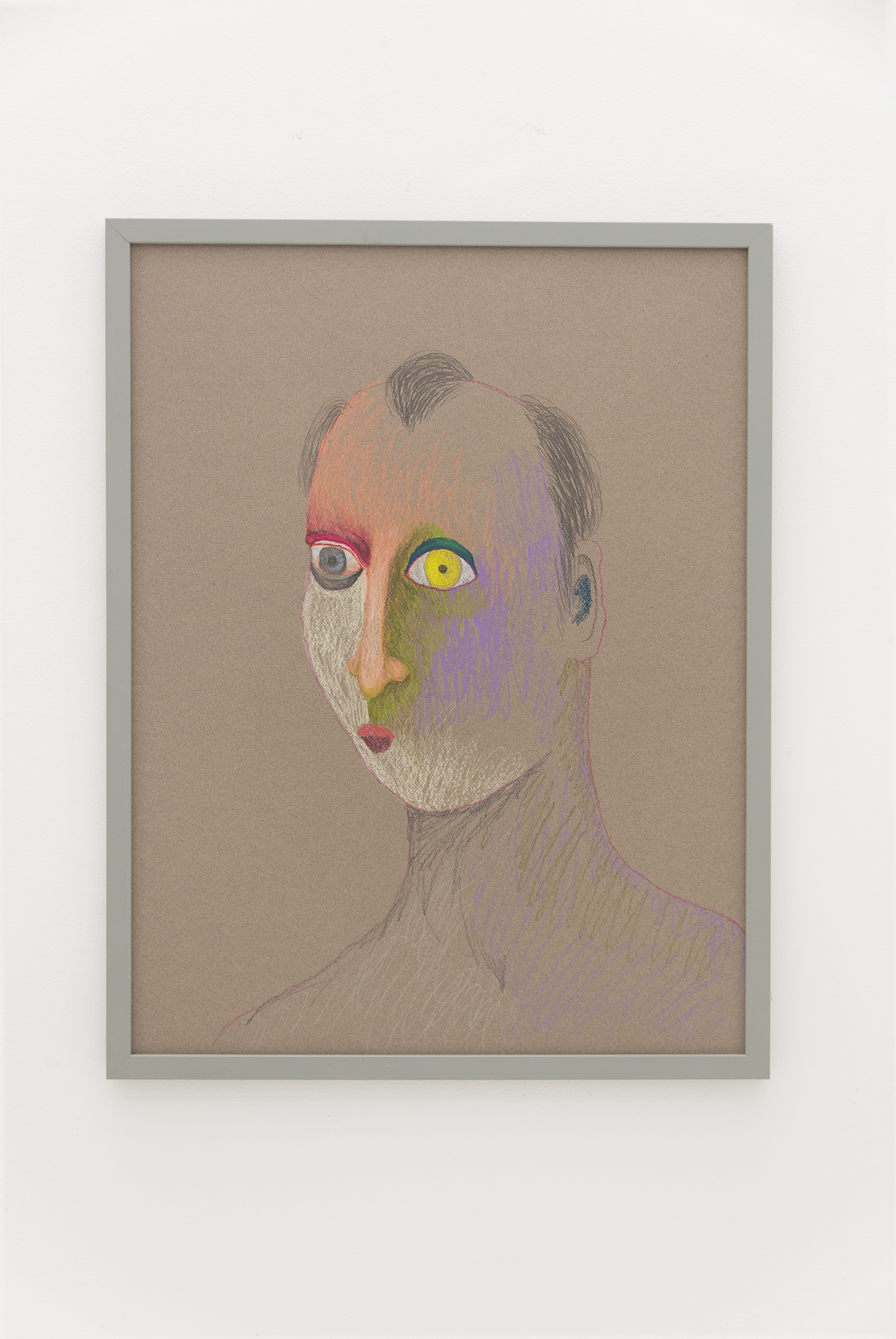 Riker, Graphite and colored pencil on paper, 20 x 29 inches, 2016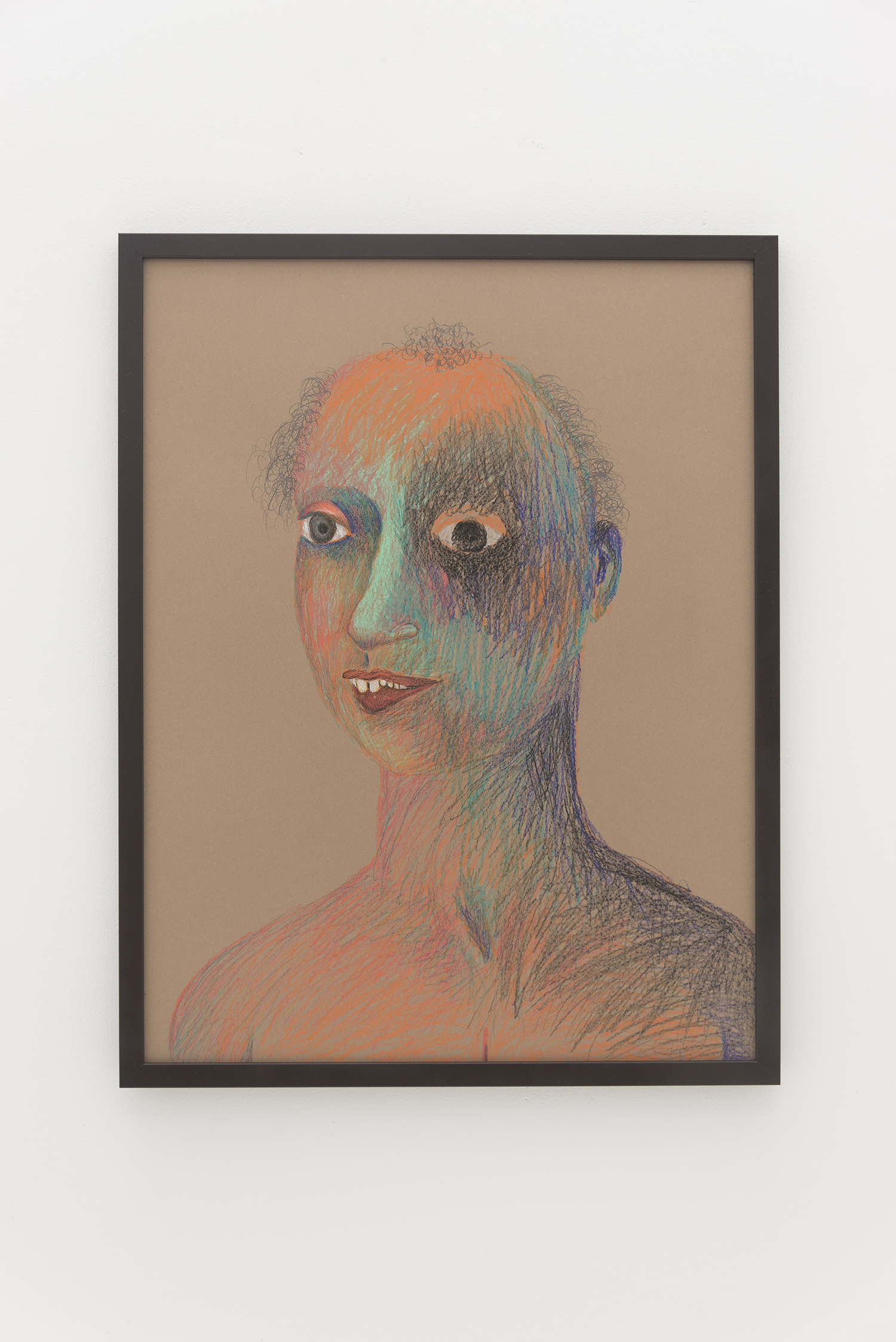 W. Crusher, Graphite and colored pencil on paper, 20 x 29 inches, 2016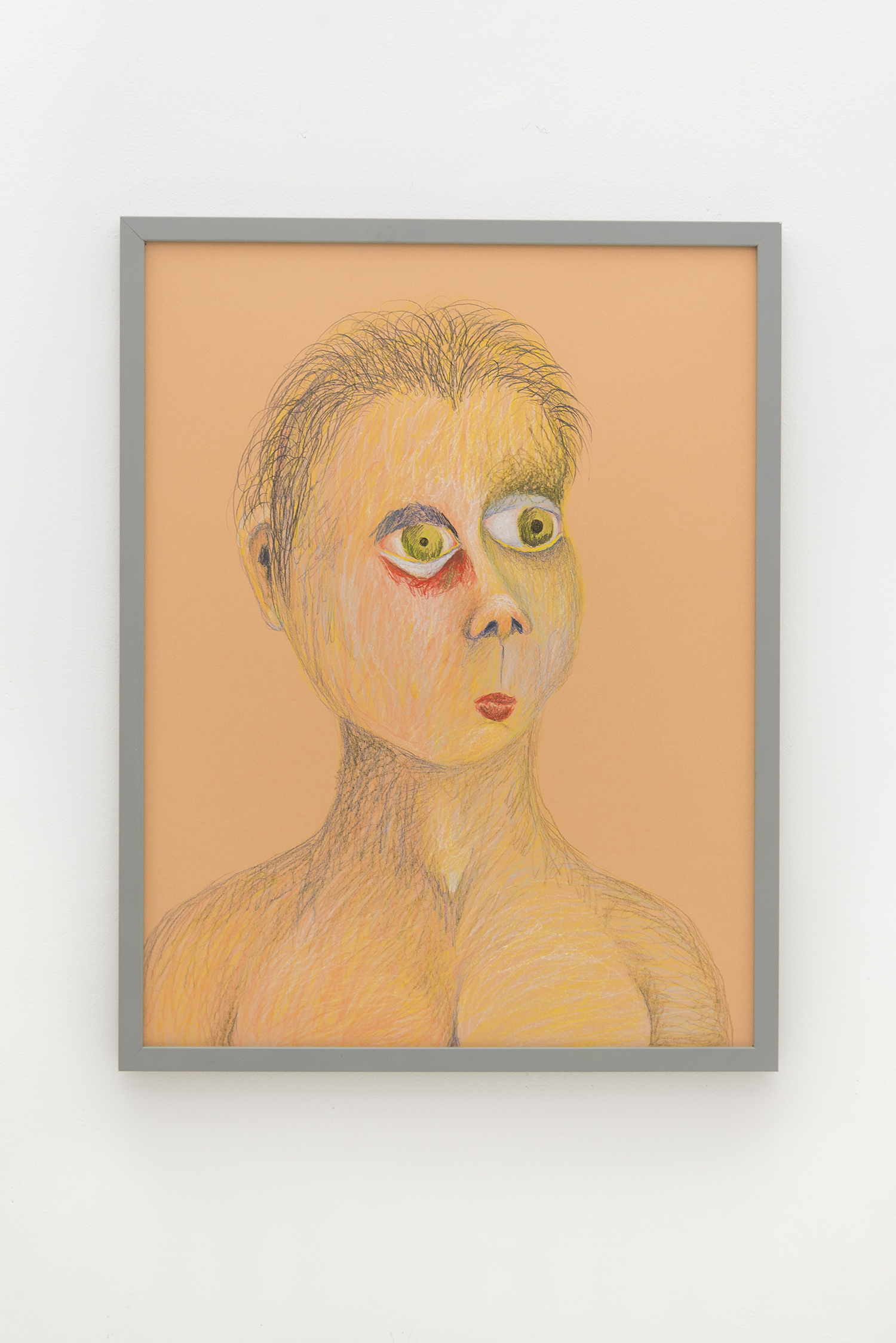 Worf, Graphite and colored pencil on paper, 20 x 29 inches, 2016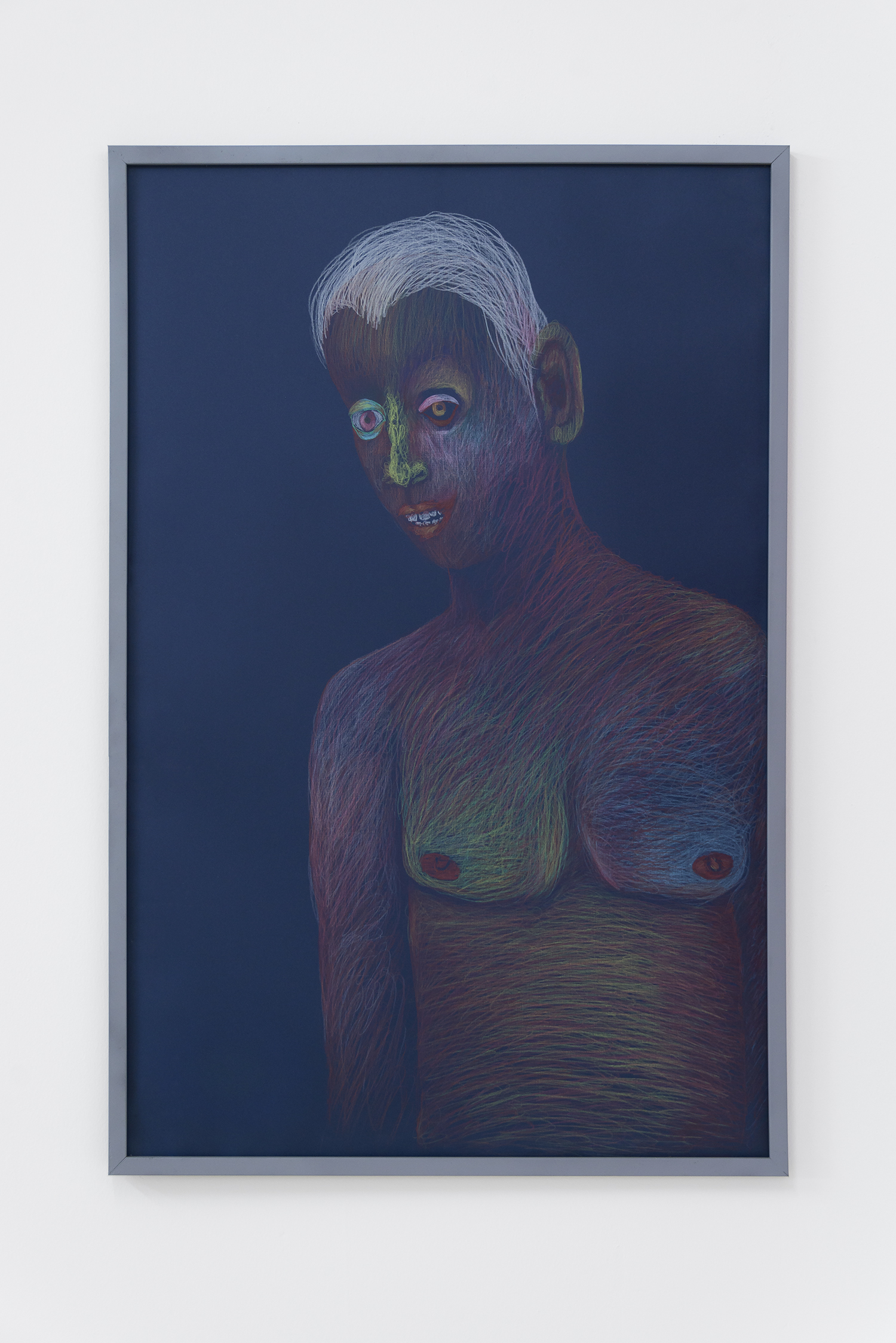 Dick, Graphite and colored pencil on paper, 29 x 40 inches, 2017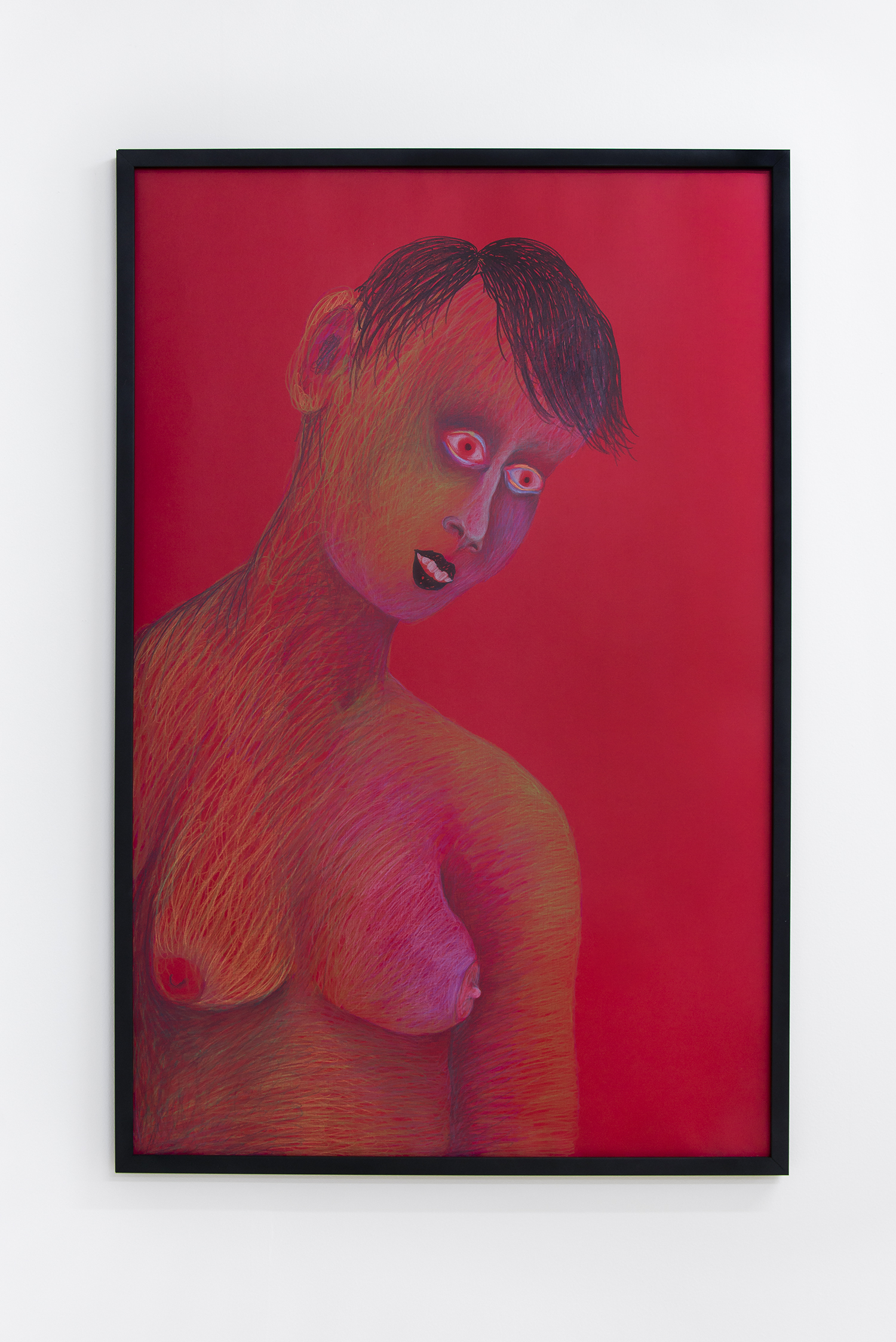 Carson, Graphite and colored pencil on paper, 29 x 40 inches, 2017
~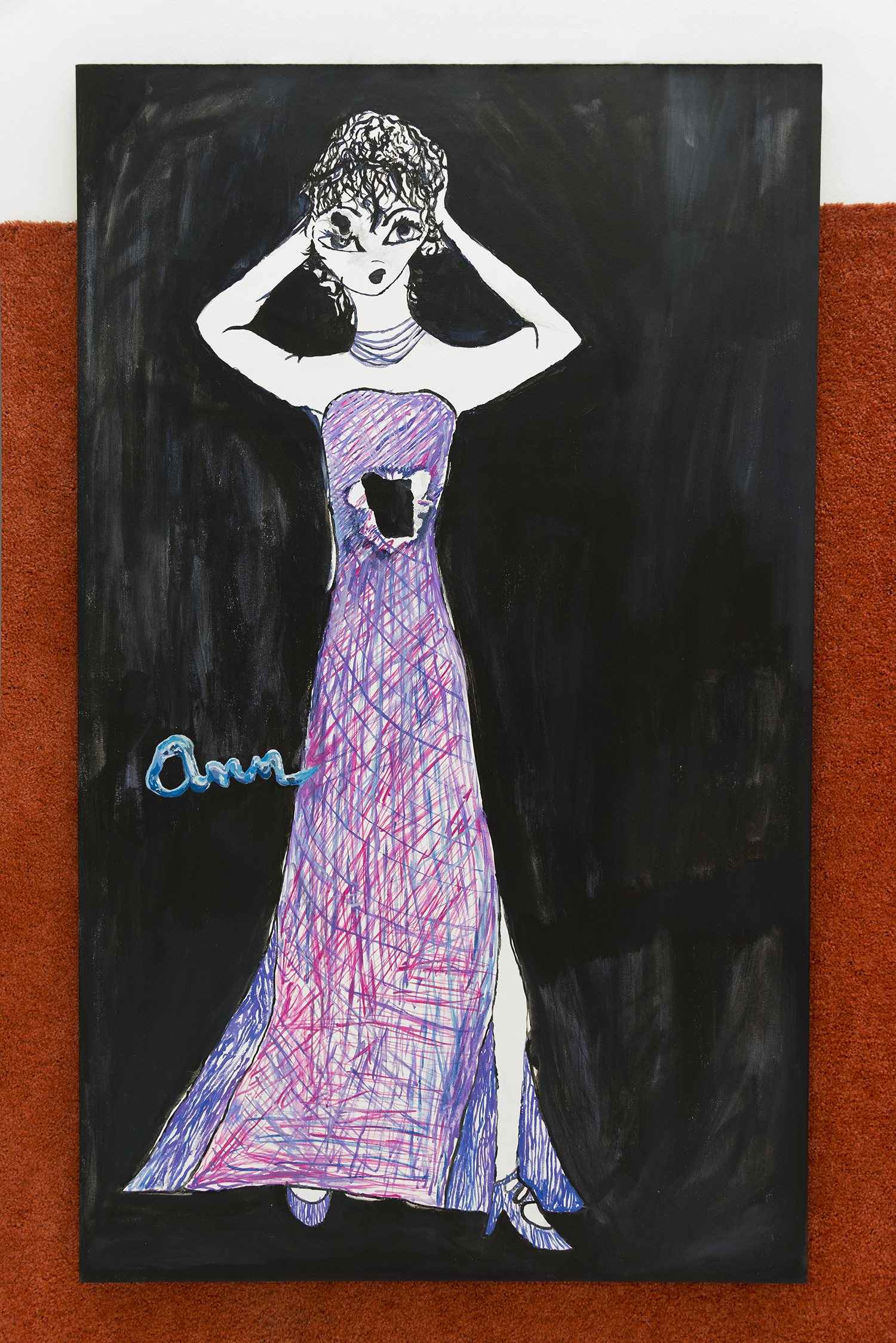 Damsel in Chains, Acrylic on canvas, 36 x 60 inches, 2015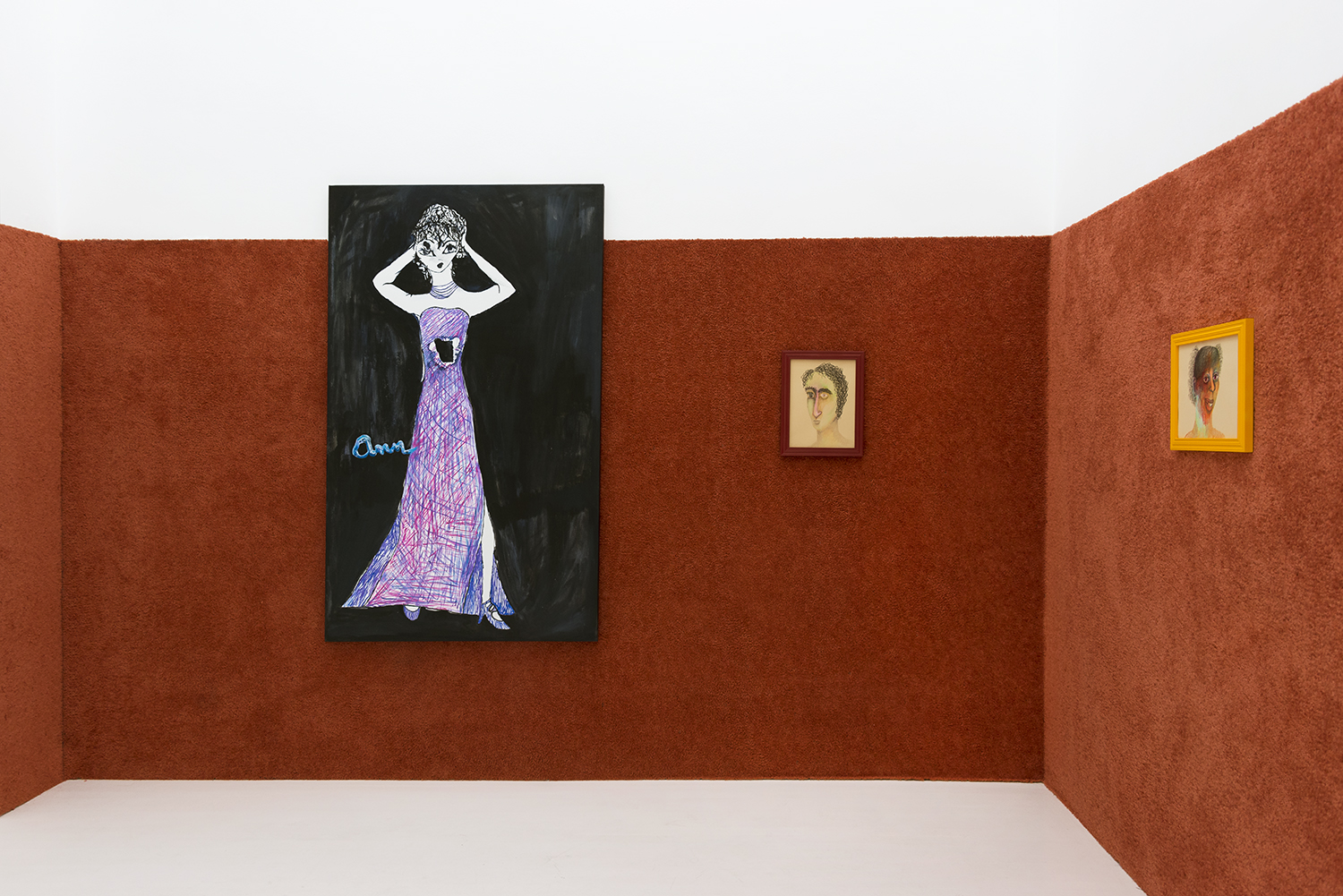 Dr Guttman's Office, installation view, 2015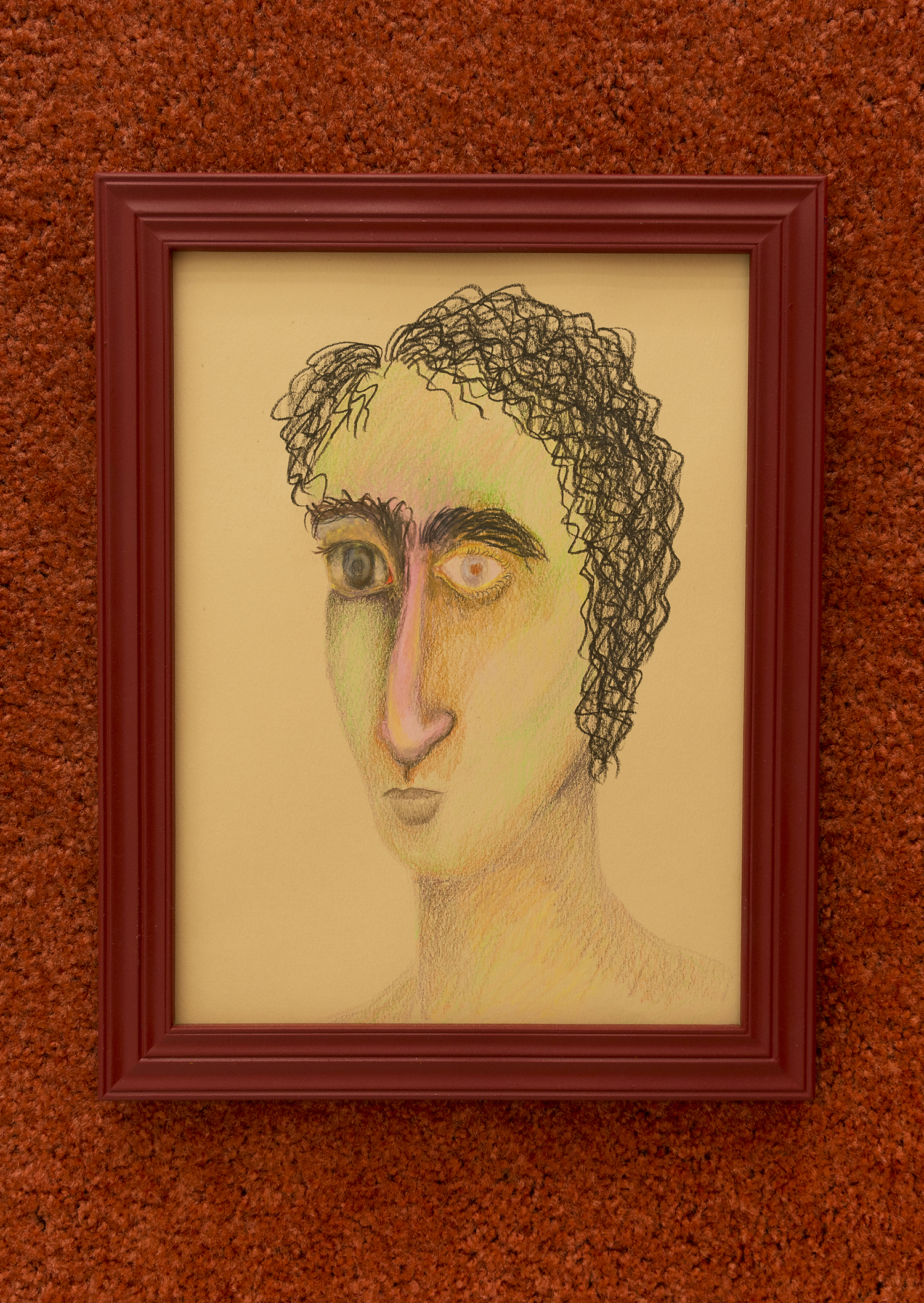 Tom Baker, Graphite and colored pencil on paper, 12 x 9 inches, 2015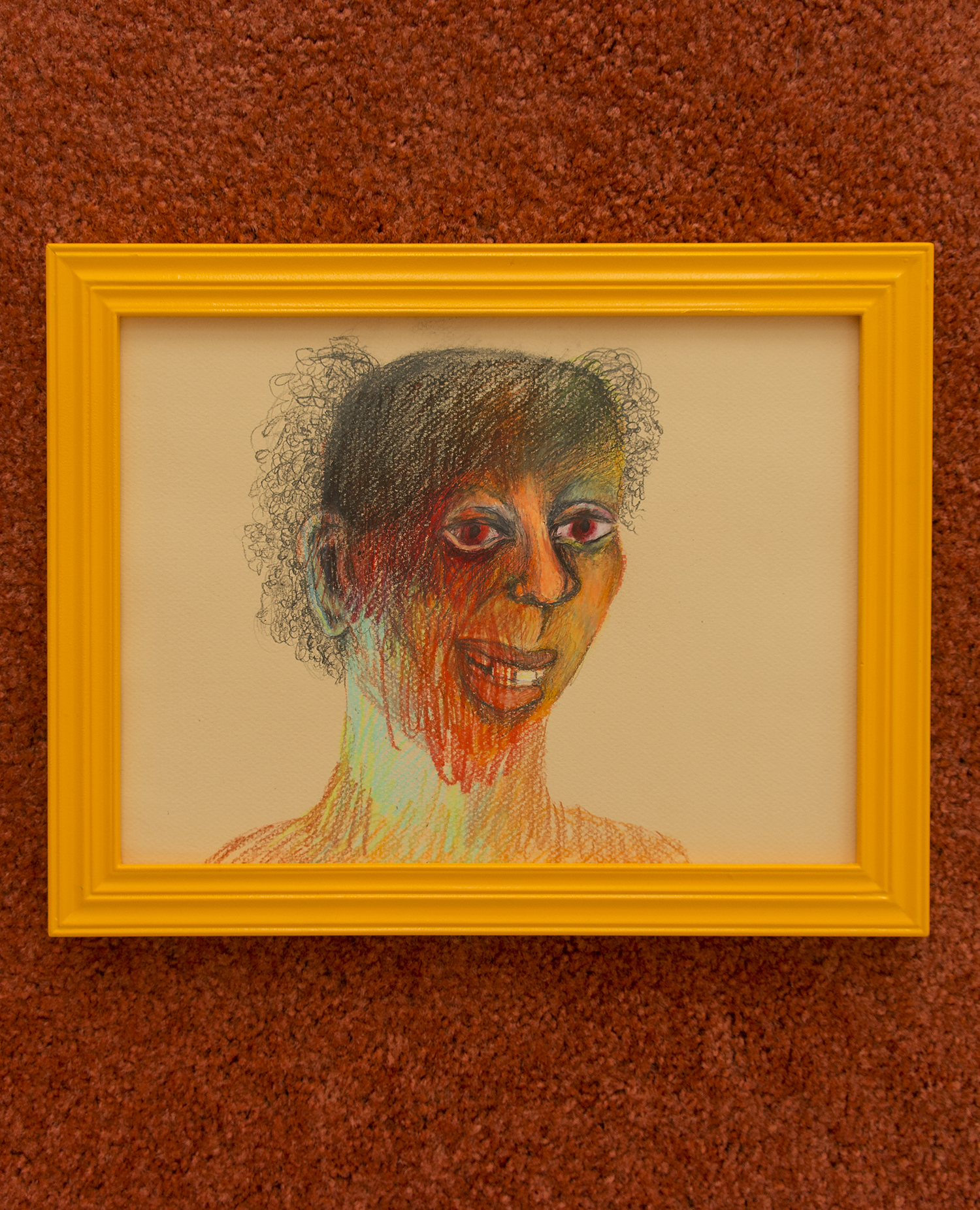 Mr Fibuli, Graphite and colored pencil on paper, 12 x 9 inches, 2015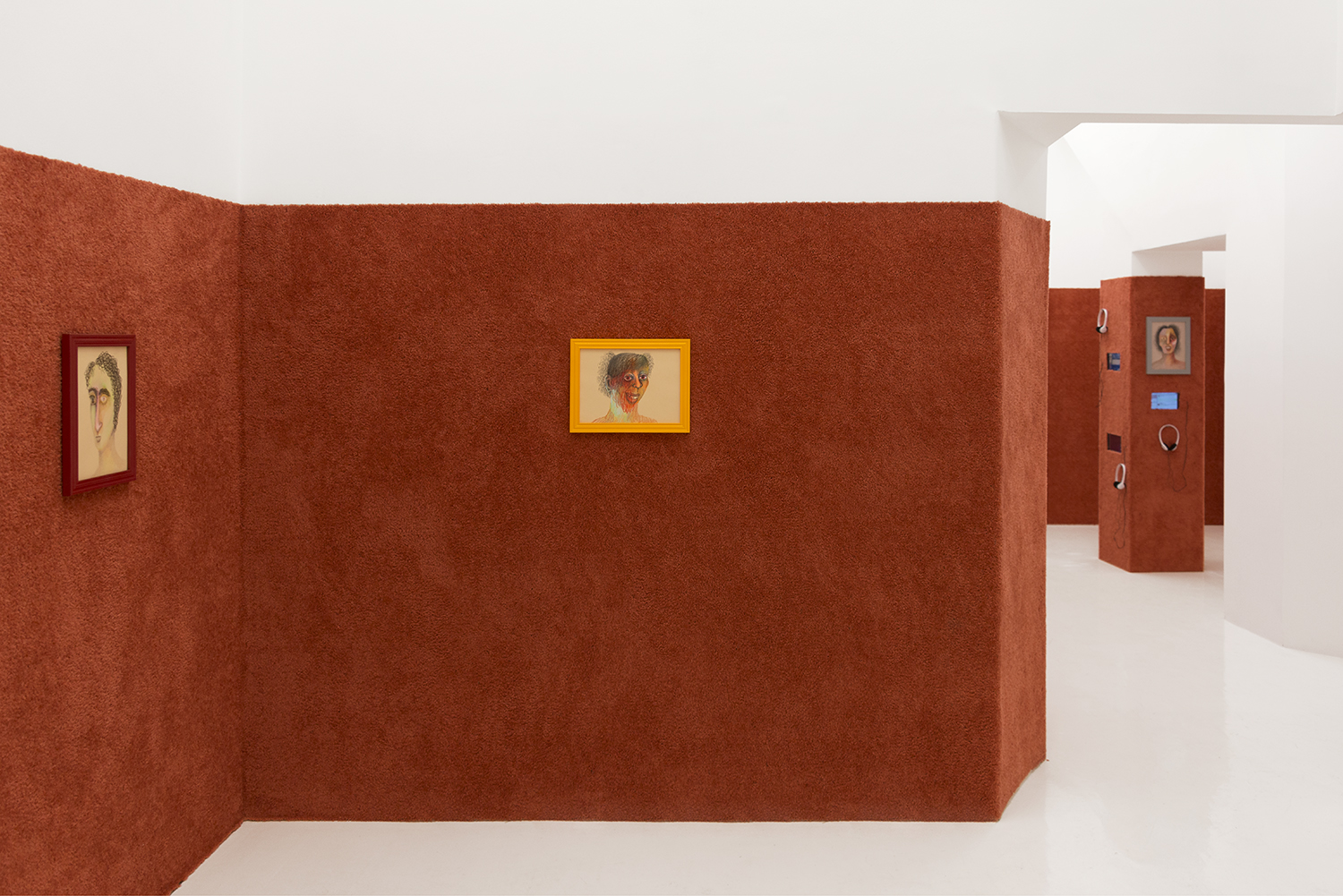 Dr Guttman's Office, installation view, 2015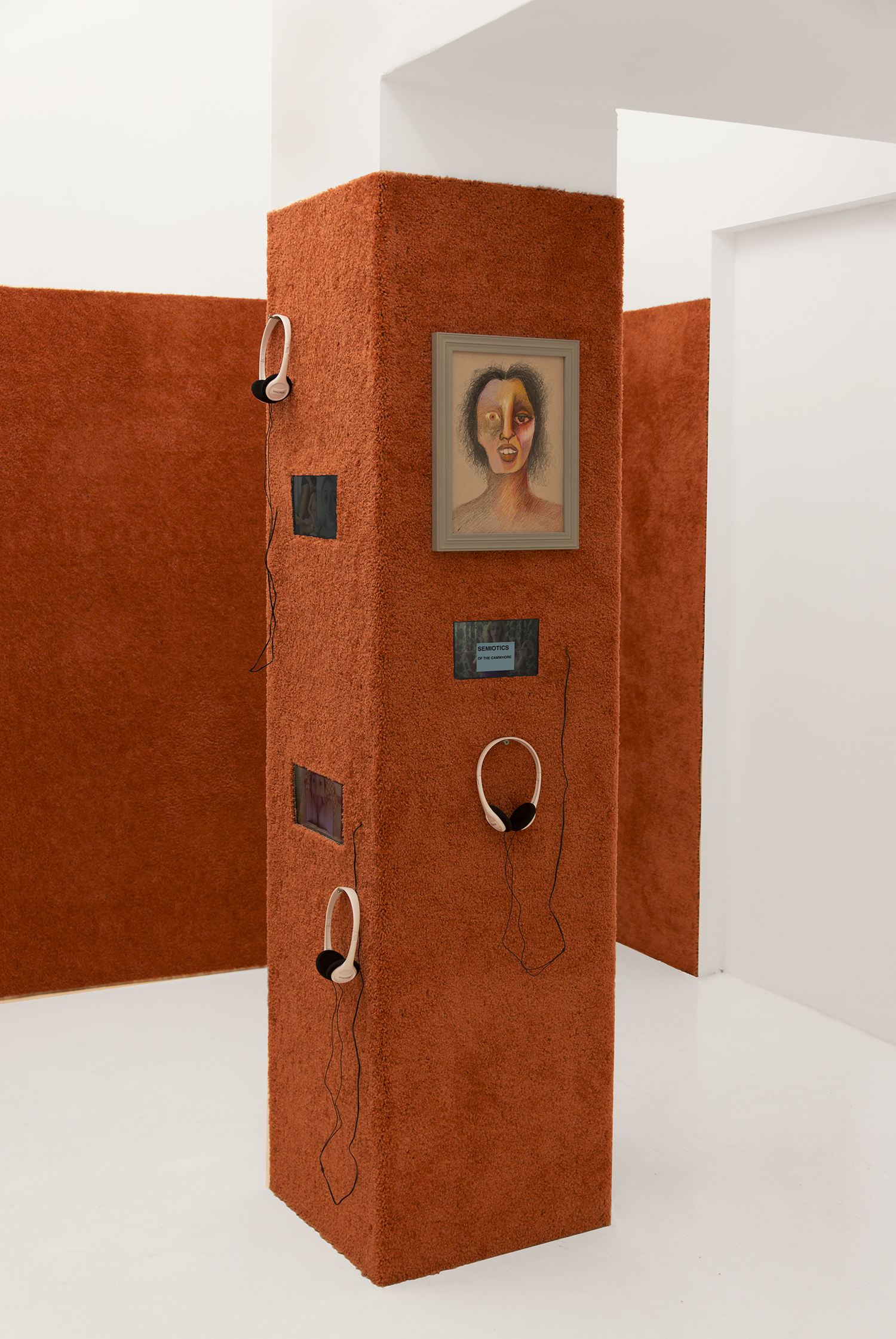 Dr Guttman's Office, installation view, 2015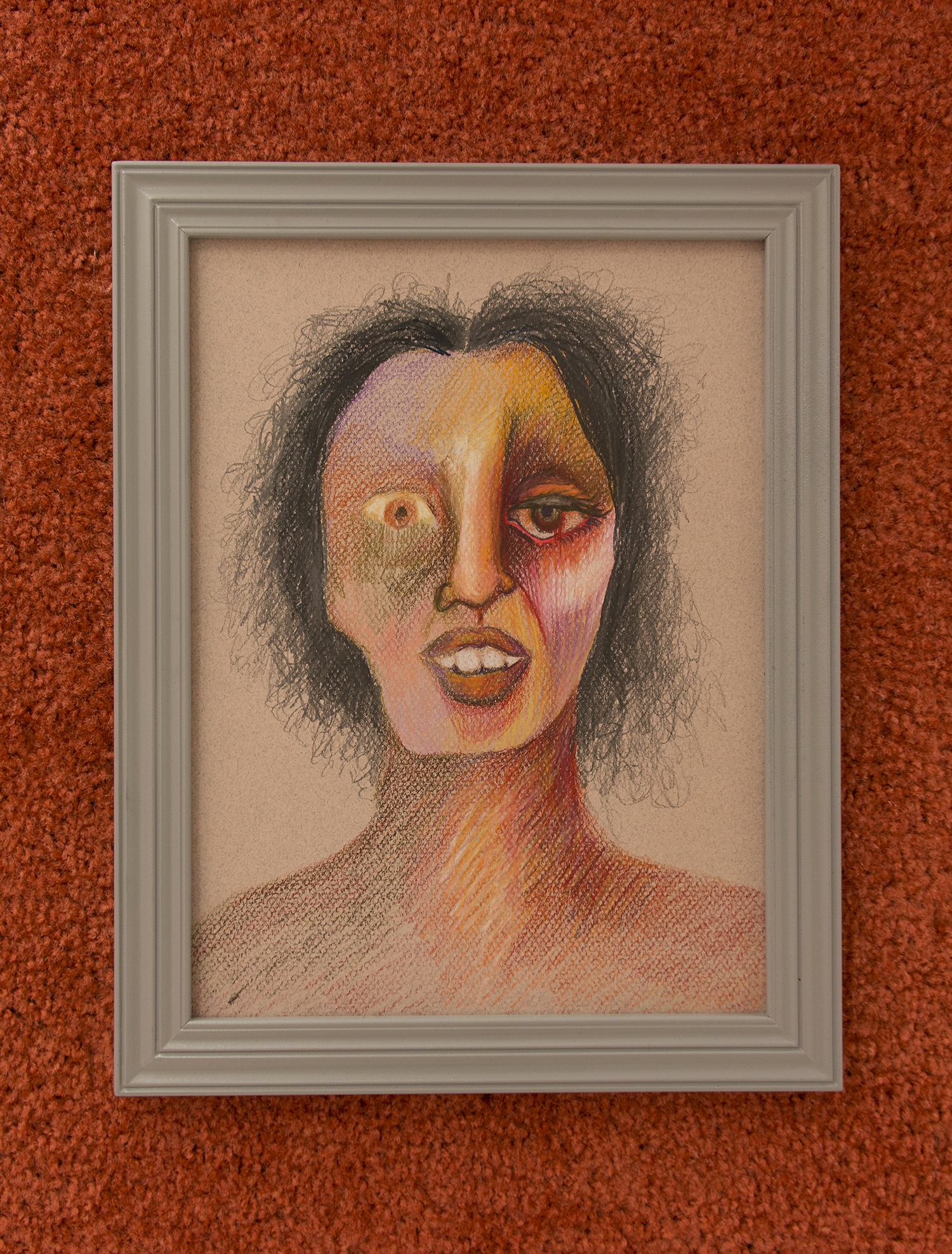 Romana, Graphite and colored pencil on paper, 9 x 12 inches, 2015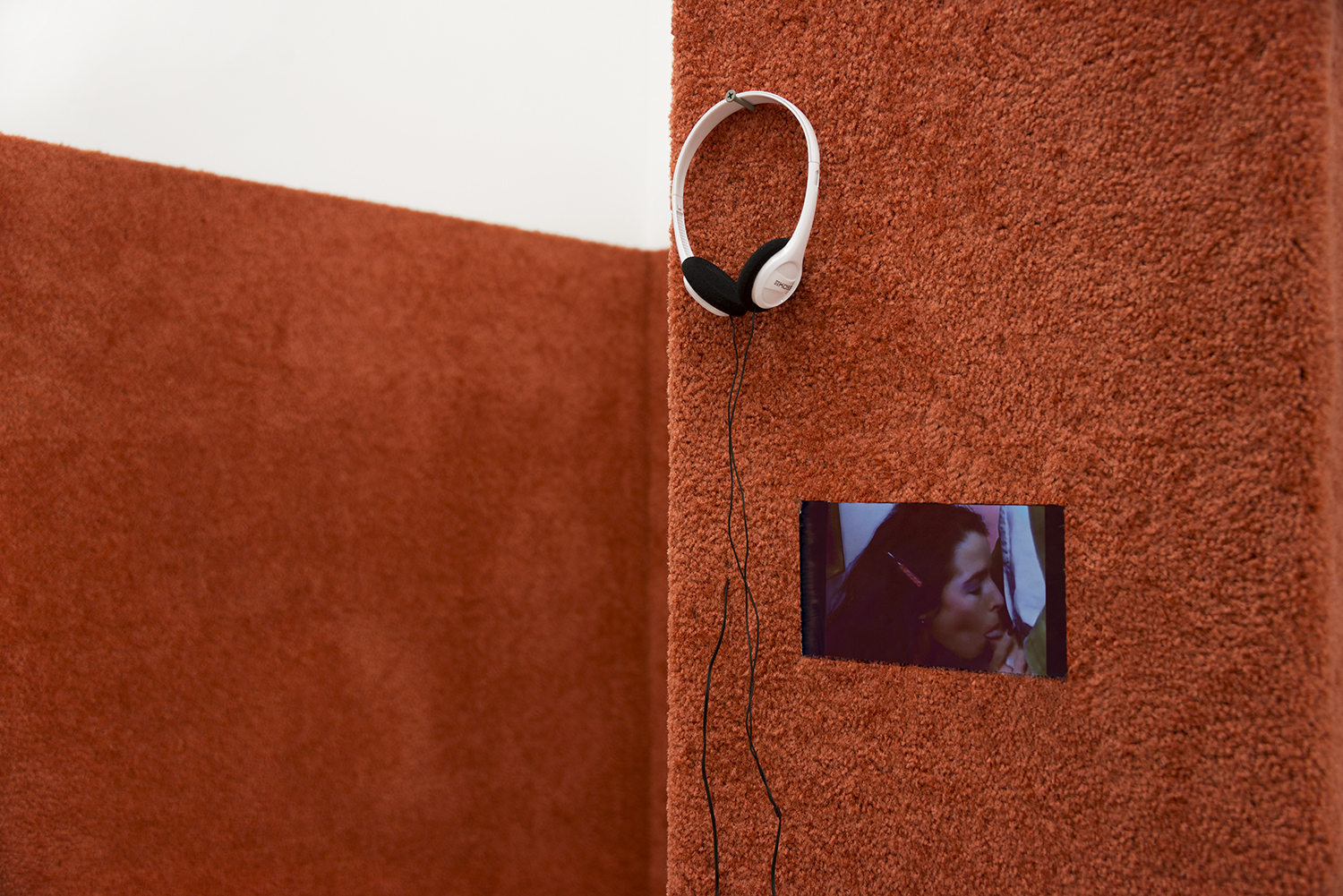 Dr Guttman's Office, installation view, 2015
Conclusion: The Real Ann Hirsch, 2015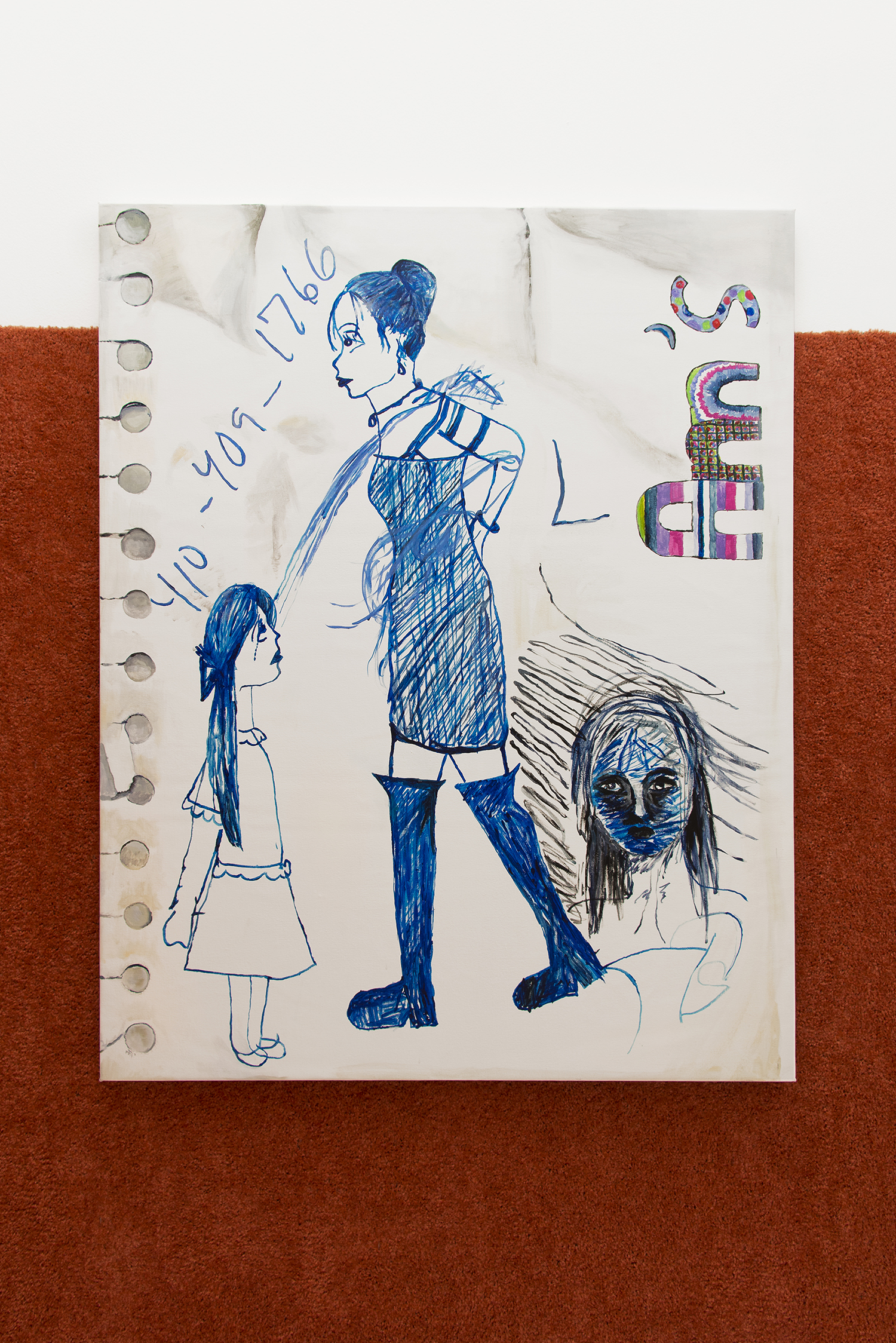 The Restauranter's Daughter, Acrylic on cnvas, 38 x 48 inches, 2015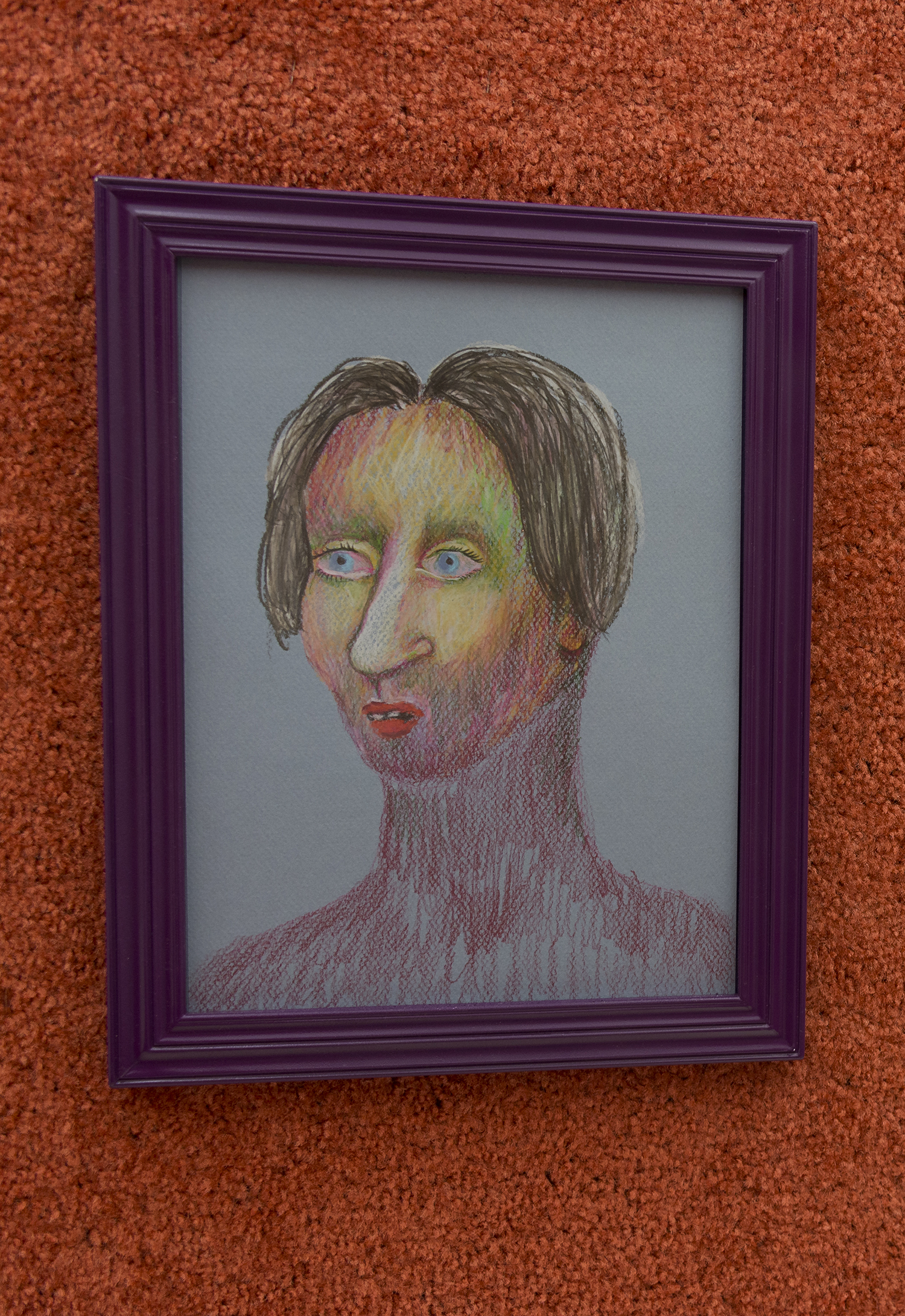 Adric, Graphite and colored pencil on paper, 9 x 12 inches, 2015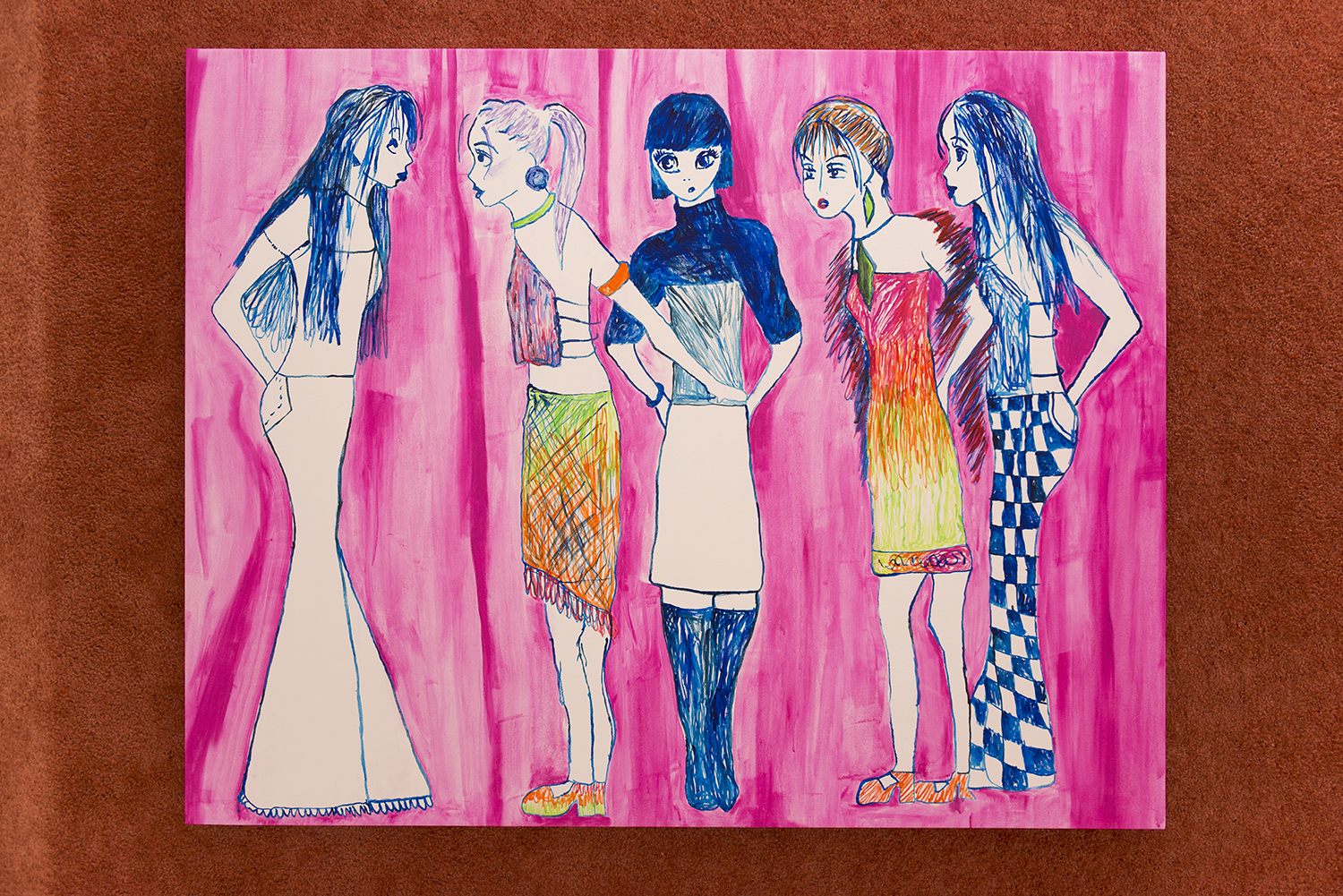 Pretty Little Truthtellers, Acrylic on cnvas, 60 x 46 inches, 2015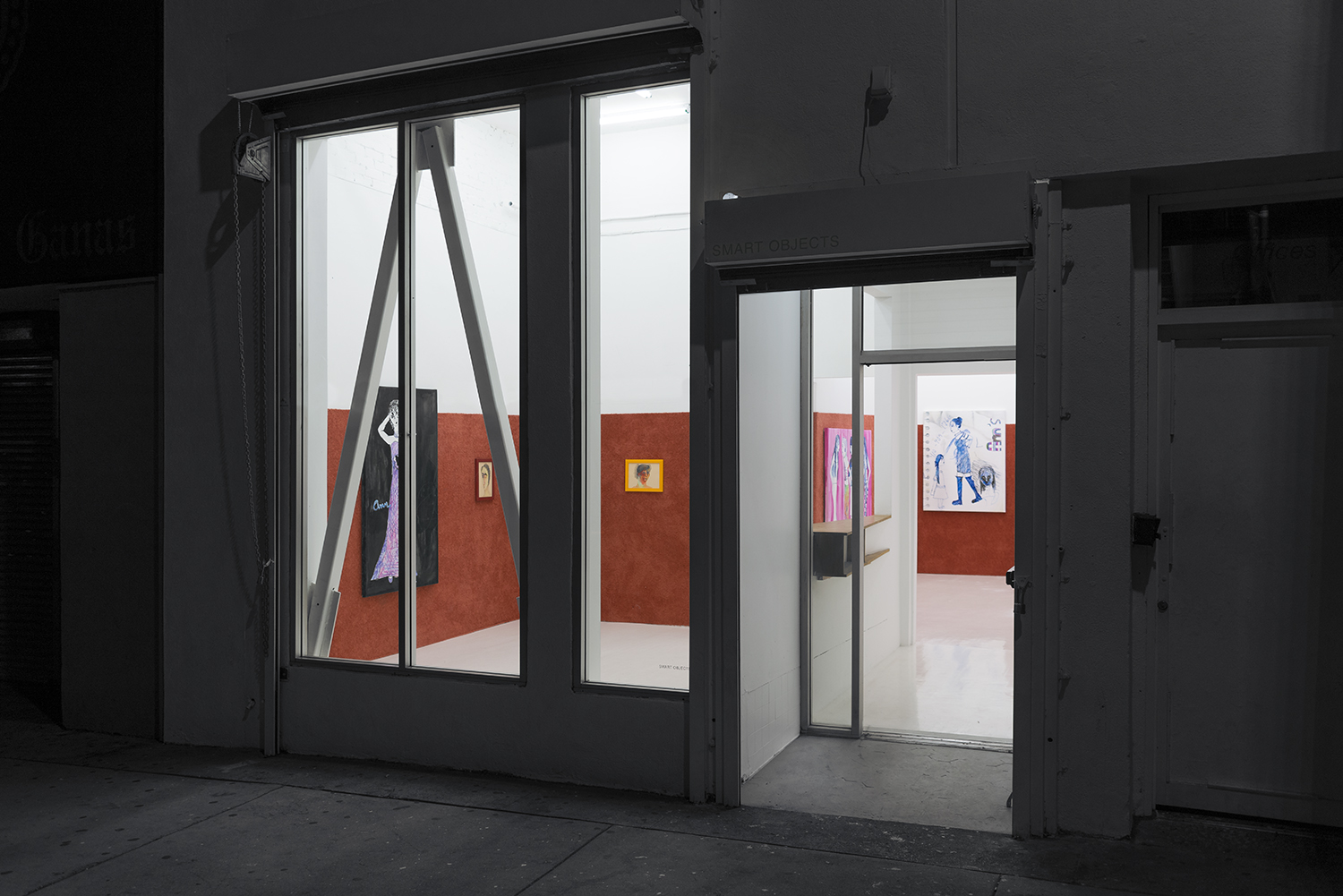 Dr Guttman's Office, installation view, 2015
~
Ann Hirsch is a video and performance artist who examines the influence of technology on popular culture and gender. Her immersive research has included becoming a YouTube "cewebrity" with over two million video views and an appearance as a contestant on Frank the Entertainer...In a Basement Affair on Vh1. She was awarded a Rhizome commission for her two-person play Playground which debuted at the New Museum and was premiered by South London Gallery at Goldsmiths College. Recent solo shows include MIT List Visual Arts Center, Arcadia Missa, London, and the New Museum's online project space First Look. She is a 2017 Rema Hort Mann Emerging Artist Grantee.
~
Selected Solo and Two-person Exhibitions
2017
Submarine Society @ GalleriaPiu, Bologna, IT
Jill Off @ Arcadia Missa, London, UK
Private Residence @ Steve Turner, Los Angeles, CA
2016
The Rest of My Life (performance) @ Machine Project, Los Angeles, US
Genes (w/Parker Ito) @ Holiday Forever, Jackson, WY
Sharing Love @ MECA, Portland, ME
A Formidable Daughter @ American Medium, New York, NY
List Projects @ MIT, Boston, MA
2015
Dr Guttman's Office @ SMART OBJECTS, Los Angeles, CA
Horny Lil Feminist @ The New Museum: First Look, ONLINE
Playground @ JOAN, Los Angeles, CA
2014
Playground @ South London Gallery at Goldsmith's College, London, UK
Muffy @ American Medium, New York, NY
2013
And Lore (w/ Jennifer Chan) @ Arcadia Missa, London, UK
~
Selected Group Exhibitions
2018
Liquid Love @ Gas Gallery, Los Angeles, CA
2017
Klassensprachen @ District Berlin, Berlin, DE
Plastik Festival of Artists' Moving Image @ Temple Bar Gallery, Dublin, IE
Public Access/Open Networks @ BRIC Arts Media House, Brooklyn, US
Occupancies @ Boston University Art Galleries, Boston, US
2016
Hypnic Jerk @ Smart Objects, Los Angeles, US
Sex: Work & Play @ Close-Up Film Centre, London, UK
Streams of Warm Impermanence @ David Roberts Art Foundation, London, UK
Your Digital Self Hates You @ Stadtgalerie, Bern, CH
Public, Private, Secret @ International Center of Photography, New York, NY
Triennial 50JPG: Camera(auto)controle @ Centre de la Photographie, Geneva, CH
Opals @ Galleri Opdahl, Stavanger, NO
Emotional Supply Chains @ Zabludowicz Collection, London, UK
Electronic Superhighway @ Whitechapel Gallery, London, UK
2015
Love me truly @ Matadero Madrid, Madrid, ESP
White House, Black Market @ Kimberly Klark Gallery, Queens, NY
The Real World @ Steve Turner Gallery, Los Angeles, CA
Our House in the Middle of Your Street @ Vilma Gold, London, UK
Thanks to Apple, Amazon, and the Mall @ Klaus von Nichtssagend Gallery, New York, US
WWWEST @ Johannes Vogt Gallery, New York, US
2014
Soft Machines @ Impakt Festival, Utrecht, NL
Step and Repeat @ MOCA, Los Angeles, CA
Daughter of the Bad Girls @ Klaus Von Nichtssagend Gallery, New York, US
2013
Performa 13 After Hours @ New York, NY
Dark Markets @ Central Utah Artist's Center, Salt Lake City, UT
Hymns for Mr. Suzuki @ Abrons Center, New York, NY
Uncanny Visions @ Aux Space at Vox Populi, Philadelphia, PA
It's about you and me @ Abc No Rio in Exile, New York, NY
Art Broadcasting @ Franklin Street Works, Stamford, CT
~
Art Fairs
~
Press
2016
Cascone, Sarah. 14 Emerging Women Artists to Watch in 2017. artnet news, December.
Wagley, Catherine. Husbands Are Really Good for Material. ArtNews, October.
Banks, Grace. Ann Hirsch: Overall the Internet has Become More Pornographic. Forbes, April.
Sauer, Emine. Digital Artist Ann Hirsch on Why Her 'Singing Vagina' Empowers Women and Terrifies Men. The Guardian, March.
Smee, Sebastian. Hijacking Chatrooms, YouTube, and Reality TV. Boston Globe, January.
Archey, Karen. Future Greats. ArtReview, January.
2015
Jansen, Char. Shame, Narcissism, and Online Empathy: Ann Hirsch's Multiple Selves. ArtSlant, November.
Diehl, Travis. Critics' Picks, Los Angeles. ArtForum, November.
Ballard, Thea. Messy Networks: Tactical Visibility in Ann Hirsch's 'horny lil feminist'. Modern Painters, October.
Fateman, Johanna. Women on the Verge: Art, Feminism, and Social Media. ArtForum, April.
2014
Quaintance, Morgan. Performance Reviews: Ann Hirsch Playground. Art Monthly, September.
Shen Goodman, Matthew. Verbatim: Ann Hirsch. Art in America, June.
Galperina, Marina. Artist's Notebook: Ann Hirsch. AnimalNewYork.com, April.
Davies-Crook, Susanna. Is the Net Gendered? Sleek Magazine, Spring Issue.
2013
Schildhause, Chloe. Ann Hirsch. Flaunt Magazine, December Issue.
Alvarez, Ana Cecilia. Ann Hirsch talks to Jason Biddies. Topical Cream, December.
Alcorn, Stan. An E-Book That Tells the Story of Adolescent Sexuality. Fast Coexist, December.
Bess, Gabby. Artist Ann Hirsch Recreates AOL Cybersex. NY Mag, November.
Indrisek, Scott. Ann Hirsch Turns 90s Web Chat into Performance Art. Black Book Mag, October.
Fateman, Johanna. Ann Hirsch 500 words. Artforum, October.
Weigel, Moira. Portrait of the internet as a young girl. Rhizome, September.
Johnson, Paddy. Brooklyn Art Stars. L Magazine, March.
~